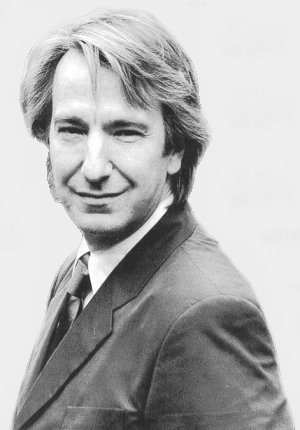 Alan Sidney Patrick Rickman
Born February 21, 1946
Alan's father (painter and decorater) died from cancer when Alan was eight years old, leaving him, his mother, and three siblings.
Won a scholarship to West London's Latymer Upper School, and began acting. Later went on to study graphic design at the Royal College of Art.
He founded a Soho-based design company, but after deciding that his heart lay in acting, he abandoned the company when he was twenty-six to study at the Royal Academy of Dramatic Art.
Spent three years there, serving as a dresser to such actors as Ralph Richardson and Nigel Hawthorne.
Loves rollercoaster rides. "Everything falls away." -AR Colussus at Magic Mountain in Valencia, California is his favorite. Also likes to daydream.
"One of the pleasures of acting on film is the sudden release of energy. I think there's something quite healthy about being shocked into doing something without thinking about it too much. With Michael Collins, although I could have killed him at the time, [director] Neil Jordan made me do a speech to 5,000 Dubliners as my first shot on film. No rehearsal." -AR
Won a BAFTA film award for Best Actor in a Supporting Role for: Robin Hood: Prince of Thieves.
Article 1
Article 2